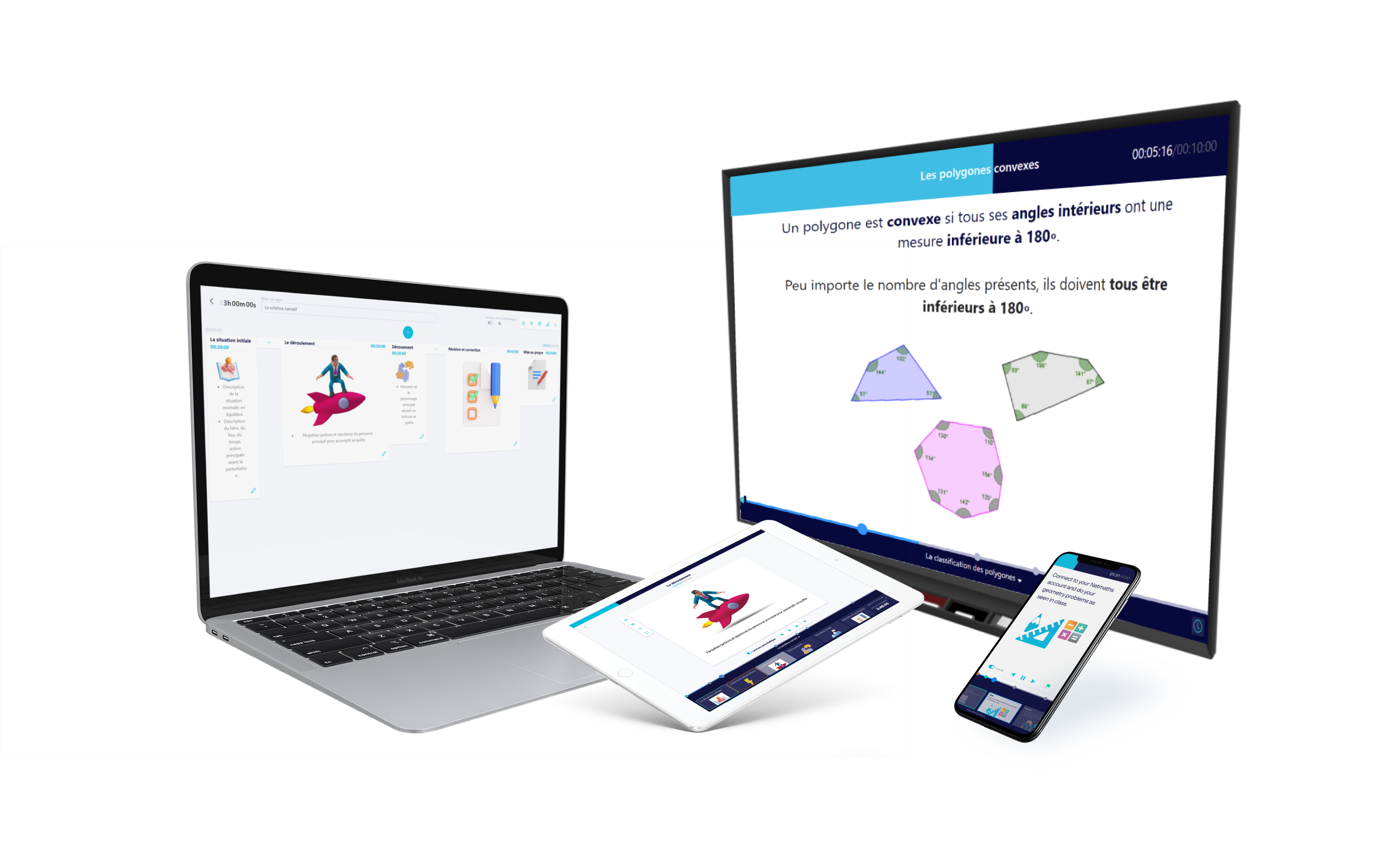 Try a Plan
A management tool like no other
This is not an agenda!
The Oplan web application was designed to help individuals plan and manage their time better in order to accomplish a task in a given time.
Repetition

Teachers need to repeat information to students or monitor time during class and communicate it to students.
Lack of diffentiation

Lack of differences in terms of plan's content and their duration to accommodate diverse student needs.
Disorganization

Students lack organization to complete tasks in a given time.
Save time on a daily basis
Classroom management
By reducing the need to repeat information or monitor time, teachers have more time to help students with comprehension issues.
Alleviates differentiation challenges
Plans can be easily adapted to students or intervention plans and shared with other teachers or support staff.
Self-improvement
The ease-to-use software makes it simple for the user to create and adjust their own plan in an instant.
Promotes auto-regulation and autonomy
By displaying all the information needed and fostering task-engagement
Self-awareness and improved metacognition
By providing data which allow the user to understand and reflect on their strengths and challenges.
Builds resilience
Students can face challenges against which they can take action and learn from their efforts in a supportive environment.
For about 1 in 3 teachers, lack of time to help some students is a source of stress in their work.
Couturier, R. (2021) Survey: Sources of stress as a teacher. 795 responses
What can you achieve with Oplan?
Use Oplan™ on your interactive whiteboard
Guide all your students at once
Use OplanTM to guide class activities, exams, etc. Ease transitions and give them insight about what they should be doing. More freetime for you to help special needs students.
Fast and easy way to create plans
Add steps & time
Create basic or heavily detailed plans for your lessons, task sets, activities, routines, or even exams. Insert different types of content (text, images, and other upcoming elements such as content from external apps).

Create a group and analyze members
Analyze the reading results of each member in a group
Your group members read the plans and get reading results. You can view the results of each plan read by a member of your group. This way, you can target the strengths and weaknesses of each member to better support them.
Share your methodology with your students
Share
Share plans, tasks and instructions to all your students that they can modify and run.
Analyze data
Know how they have been performing and where they struggle.
Improve the way you use your time
Use results from reading
This makes it easier to adapt your plans to your actual pace. Try out different plan structures, and see in real time the effect of those trials on achieving your teaching/learning goals.
Let our template library inspire you
Choose libraries
Have a plan ready to use in seconds with our plan template library. Get inspired by templates from your colleagues, your students or even Oplan's community.

Print your plans for your students using SEQUENCE™
Print in two clicks
Print plans for exams, younger students or places without any devices.
Interested ?
Book a demo
In addition to the preparation of high school lessons
Distance learning or flipped classroom
Preparation of oral presentations
Science Laboratories

Study plans

Oral presentations

Written essays

Homeworks
Routines, work plans, etc.

In addition to planning for elementary education
Special needs students

Intervention plan
Exams

Group activities

Individual work with personalized plans

Visual presentations

Daily routines